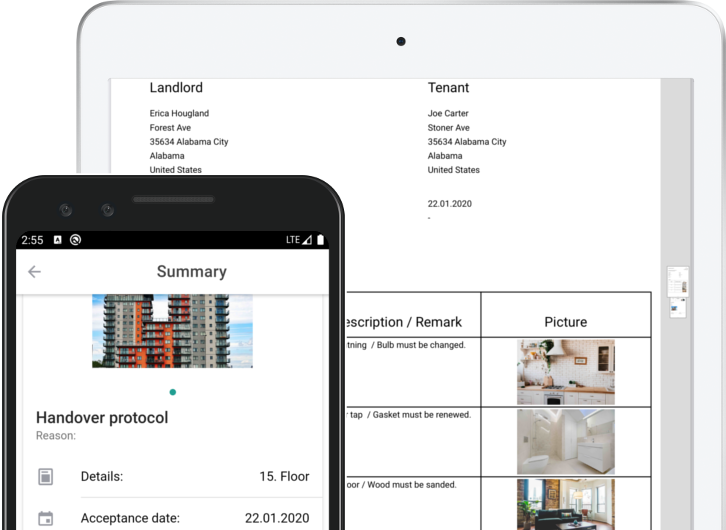 From forms to documents and master data
With Thumbify, you can easily capture your data in digital forms. The resulting documents represent transactions such as privacy statements, offers, contracts, invoices, powers of attorney or handover protocols. Access your own product and contact master data as you create your documents and benefit from automatic mapping and transparency. With just one click, your relevant data is transferred from one document to another form. This way your processes will be completed even faster. Thumbify is the easiest way to personally benefit from digitization.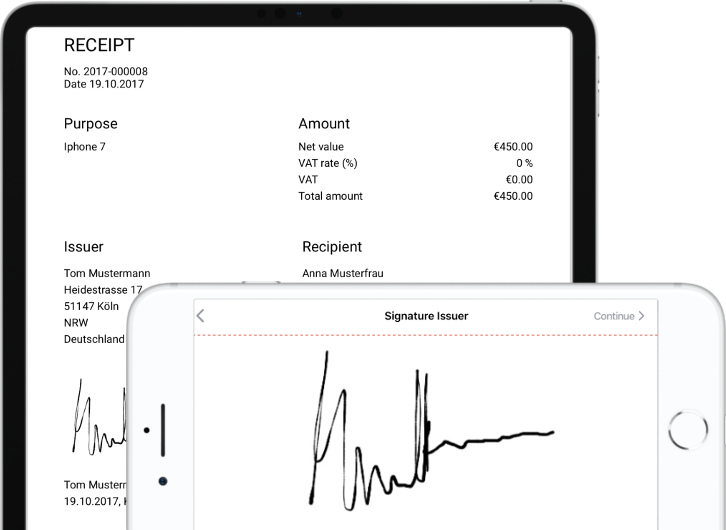 Take advantage of the added value of digitization
Document the exact condition with photos and sign your documents 24/7 with a simple signature directly on your smartphone or tablet. Then easily share your documents as PDFs with your contacts via email, messenger or cloud service.
Thumbify helps you do all your business easily and paperlessly and is compatible with all the platforms you use.
Focus on your core competencies
Thumbify gives you an overview of your tasks by automatically sorting your documents into the categories Do, Wait and Done.
The notification function informs you about upcoming tasks that are due soon and about the birthdays of your contacts.
Start today with digital data collection and use this new basis to set up your plans for the future.
Individual solution required?
We are the right partner for all your challenges around the future topic of digitalization.
We support you in the initial analysis of your potential, the implementation of your requirements and ensuring sustainable optimization.
We are curious about your requirements.
Curious? Convince yourself now.
Available for free on iOS and Android and on the web. Thumbify works on your iOS and Android smartphones and tablets and is optimized for Chrome browsers. Access all your digital documents and master data anywhere at any time. There are no ads, no affiliate marketers, no creepy tracking.
Thumbify at a glance
Forms
Use the standards or your own templates. The forms build on each other, so that entire process chains are created for your company.
Media function
Capture the current state with photos and insert them into your documents. With the scan function, your physical documents are digitized even faster.
Master data
Mapping your contact and product master data has never been easier. Access them directly from your forms and always stay on top of things.
Digital signature
Sign your documents directly on your smartphone or tablet with a simple and legally secure electronic signature.
Share documents
Share your documents as PDFs with your contacts via email, messenger or cloud service.
Sort & Filter function
Use the power of digital data and find your necessary information in seconds.
Offline function
Access your documents at any time. New entries can also be created offline.
Numbering
Sequential numbering including customizable prefixes for your various forms, master data as well as cost centers.
Push notification
Get notified about your due tasks and the birthdays of your contacts at any time.
Dashboard & Reporting
Keep track of your operational business development in real time. Automatic reports support sustainable quality and growth.
Globalization
Work together with your partners worldwide and 24/7 on your projects. Use the major trading languages and 153 currencies.
Security
HTTP Strict Transport Security and SSL encryption. Your data is not stored unprotected on your device.
Server location in Germany.
News from Thumbify